This is a single pin released on the Disney Store Europe to celebrate Tron's 35th anniversary.
The listing on the Disney Store reads: 'Celebrate the 35th Anniversary of the computerised cult classic with our sleek and stylish Tron pin! One of just 500 in Europe, the hard enamel design features bold logo detail and raised artwork of Lora and Kevin.'
This pin has a rudged edge and features the blue Tron logo, the Tron car and 2 characters, Lora and Kevin. The badge is mainly blue and red but has some slight black and yellow detailing and a silver effect outline.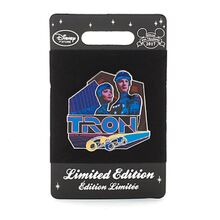 Original Cost
Edit
This pin is listed on the Disney Store as £9.